1) We strongly recommend that in case of any difficulties you can address your questions to our support service either through the mail support@tlc-mobile.com or by chatting in an online 24/7 chat that is available at the bottom of the cabinet.
Communication with technical support via e-mail will allow us to forward your request to the right specialist, also this is a guarantee that your request will not be lost and will be responded promptly.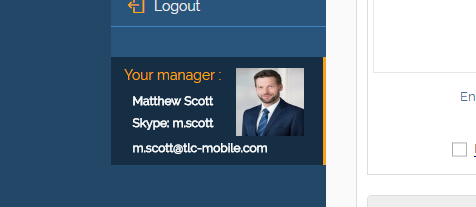 2) Contacts of your Personal manager you can find out in your account. We recommend you contact him on your urgent matters need quick solution. In all other cases, contact our support team.